Fair Warning - 'Lost and Found': Review by Lester Bongs, exclusively for Surgemusic.com
Fair Warning circa 1979: L - R Terry Fawkes, Dave Vale, Martin Roden-Calder, John Carter
In 1979 songwriter John Carter was seen performing by Clifford T. Ward, who was impressed enough by what he saw to urge John to make demo recordings of his best material.  John, with his trusty acoustic guitar and a hired reel-to-reel machine swiftly produced a set of demos impressive enough for Ward's manager, Justin De Villeneuve to suggest John form a band, and polish his best songs to make them shine, in preparation for recording an album, for commercial release the following year.

Fair Warning was that band, and 'Lost and Found' is the album they recorded.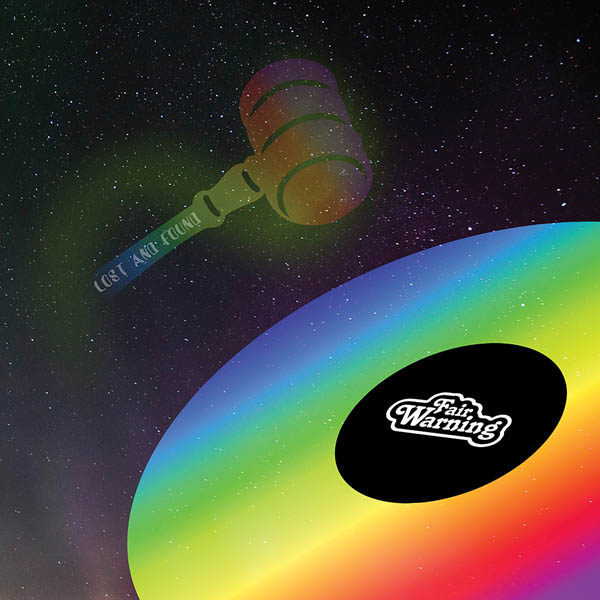 SPOILER ALERT: Sadly, the label decided not to release it - which is a shame in my opinion.

I think its a shame because 1978-1980 were some of the most explosively creative years of British popular music, as yer more creative and musically literate British musicians, recently liberated from the shackles of the past by punk in '76-77, were further liberating themselves from the self-imposed simplistic musical shackles of punk, and a kind of MerseyBeat style old school mini-beat boom happened - sometimes labelled 'New Wave', to distinguish it from it's more primal ancestor.  In that vibrant milieu, so unlike the 21st Century scene, where guitar-based popular music still mattered, was still fresh and vital, 'Lost and Found' would have stood a good enough chance of getting somewhere, if the label had taken a punt - imho...
Googling Mr Clifford T. Ward &/or Mr Justin De Villeneuve should be enough to persuade you that the songwriting quality was there, and Mr Carter chose his musicians well - the playing is focussed, "tight as a drum, loose as a gun holster" - which mattered in those analogue days.  There was no copying and pasting back then, you had to know what you were doing, time was money back in the day, same as now. Rhythm section Dave Vale & Martin Roden-Calder have the chops to funk & swing the hip New Wave thing, and still throw in the odd tricksy 5/8 time signature switcheroo in 'Everybody Tells Me', while guitarist Terry Fawkes can spit & snarl & shred like Mick Jones or Fast Eddie Clarke, say, but also be lyrically melodic and passionately expressive, reminding me of psychedelic soul supremo Ernie Isley at times - take 'Take The Evening' as an example.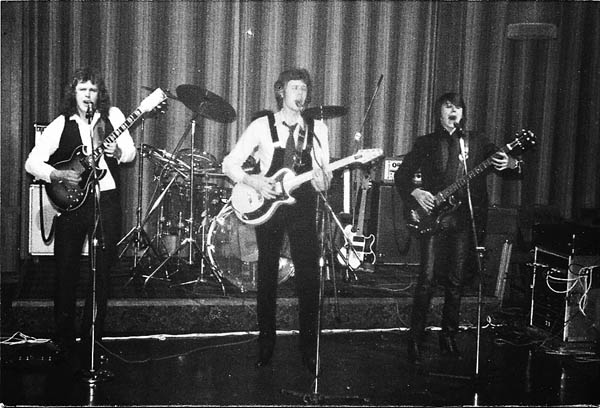 Talking of taking, taking the album as a whole - as albums were conceived and perceived, to be taken - along with other things ;-) - back in those pre-streaming days - well... taken as a whole the album has the angular interlocking rhythms & spiky pop-punk, the ska & reggae vibe, the chiming guitar interplay & pop sensibilities of contemporaries like XTC, Talking Heads, Elvis Costello, Television, & The Police (the New-Waviness most post-punkishly evident in the driving 'Animal Instincts') 

But this English post-punk rose had roots going deeper, back to the early 70s and late 60s, roots which blossom in the delicious Allman Brothers/Thin Lizzy style harmonised guitar lines on 'You Are The Time', or the moments throughout when John Carter's voice is lifted up on swoony sweet West Coast harmonies, reminiscent of Crosby, Stills & Nash, or America, notably on closing cut 'Tender Way To Say Goodbye'.
The whole thing hangs together nicely, and I think would have sounded refreshingly different, but still cutting edge & contemporary back in the day, and would have caught the ear of many a drainpipe jean and skinny tie wearing spiky haired new waver, given half a chance.

Ah well, that's showbiz.
And just like showbiz, there's a happy ending.
Well, boys and girls, that analogue master tape, consigned to a box by Mr Carter in 1980, where it lay undisturbed and forgotten, in a drawer, through seven house moves and for more than thirty six years, was one day re-discovered, lovingly restored to make it playable and transferred to digital from the original analogue tape by Paul White, editor in chief of Sound on Sound magazine then sensitively mastered by David Mitson, the multi-platinum and gold disc award winning former chief mastering engineer across the pond at Sony USA, and...

*starts drumroll*
Lost and Found is finally about to be released, thirty seven years to the day from completion of the recording!
If you want to hear for yourself what I'm a gooin on about, 'Lost and Found' - the Fair Warning album, a lost gem for nearly four decades, will be released worldwide via iTunes, Amazon, Google Play, Spotify and all dat jazz on 3rd May 2017. Take a punt..